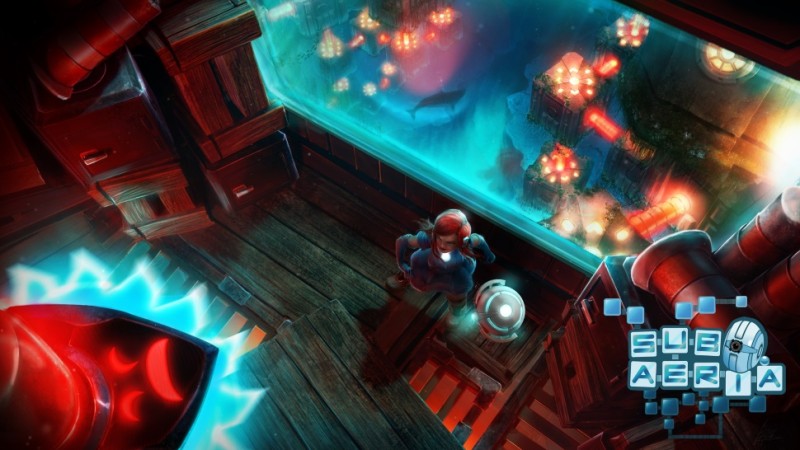 Welcome to the world of Subaeria, now available on Steam Early Access!
Subaeria is an intense action puzzler with roguelike-elements where players use their wits to manipulate their enemies into destroying each other.
Subaeria is resetting the rules of roguelikes — kill or be killed — to focus on tricks and traps.

Megan Nicolett, Polygon
Subaeria lets you explore a unique science fictional setting through multiple characters who are both the perpetrators and the victims of their world's injustice.

Shaun Prescott, PC Gamer
You have four different characters to choose from, each with their own narrative and story options, leaving a 0% chance of the game becoming stale after a playthrough.

Catherine Ashley, Girls on Games
Pit your enemies against one another and the environment to defeat them.

Use skills equipped to your drone to influence your robot ennemies and Styx.

Every room is a puzzle to be solved with the skills you have on hand.

Unlock different skills, buffs and skins at each playthrough

Explore a new labyrinth at every play session.
Styx
Styx is a young girl living in the slums of Subaeria. Subaeria's overlord, Don Dorf, sentenced her entire family to death. Unable to save them, she barely escaped with her life. Now she's out for revenge. She must fight her way through the city, reach Dorf's Presidential suite, and put an end to his tyranny. Once and for all.
Don Dorf
Don Dorf is the President of Subaeria, he has gained and maintains his position through sheer ruthlessness. His army of Cleaners is always ready to do his bidding and ensure his continued dominion.  He'll stop at nothing to maintain his power and won't hesitate to squash any who stand in his way.
Cleaners
Cleaners are omnipresent in Subaeria. They serve both as janitorial robots and security enforcers, cleaning out the filth. Though they all heed the orders of the president, they belong to different security companies. Competition is tough, and one unit won't hesitate to destroy a Cleaner belonging to another firm.

iLLOGIKA was founded in 2009 and has grown ever since. What started as a small 4-man studio has now expanded to more than 30 full time employees. We've worked on more than 50 projects to date including serious games, mobile, VR, AR and PC titles. The studio's Unity experts also teach the engine in schools across Montréal, as well as hosting classes in other studios, such as Ubisoft.
We are a team of video game veterans, artists, designers, programmers and business people, working together to create the best interactive experiences both independently and for our clients.
We create interactive media on a vast variety of platforms in order to bring experiences to life, through games and installations.